About Us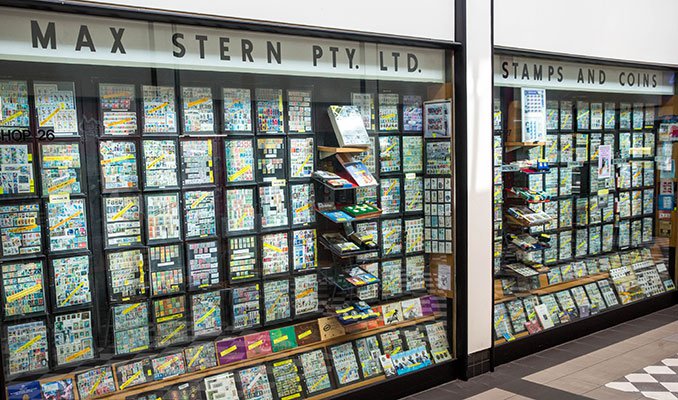 Our service is fast, uncomplicated, efficient and friendly . The name MAX STERN has been synonymous with stamp issues of the world, coins ancient and modern, banknotes, fair prices and ethical trading since 1948. That's why collectors and dealers keep coming back for the famous MAX STERN service, year after year.
Retail shop of the year 2003, 2004, 2005, 2006, 2007 and 2008 !!!!!
Max was a stamp dealer for over 75 years. When he began stamp dealing at 17, he was the main provider for his family. Remarkably, Max continued to operate his business throughout most of World War II. After escaping the final deportation of Slovaskia's Jews in October 1944, Max went into hiding with others and following their discovery early in 1945, Max was sent to Sachsenhausen concentration camp near Berlin. When the War ended, Max had survived a death march from Berlin towards Hamburg.
Max re-established a stamp business in Bratislava in 1945, but the Communists takeover of Czechoslovakia three years later made it impossible for him to continue. Escaping with his wife Eva, they made their way to Australia. He set up a stamp dealer business in 1950, opening a shop in Melbourne close to his present location in Port Philip Arcade, off Flinders Street. Max Stern's career nurtured generations of collectors, and was recognized by his appointment as a Member in the General Division of the Order of Australia (AM) in 1999.
Max Stern held the following positions:
Secretary of the A.S.D.A. Melbourne 1952
President of the A.S.D.A. Melbourne 1954-1956
Honorary Life Member of the A.S.D.A.
Foundation Member of the Australian Philatelic Federation
Past President of the Victorian Philatelic Federation
The company achieved the following milestones:
Max Stern & Co was established in Bratislava, Czechoslovakia (1939)
Member of the American Stamp Dealers Association (1946)
Company moved to Australia (1948)
Member of the Australasian Stamp Dealers Association (1950)
Opening of the first shop in the Mutual Arcade (1952)
Shop moved and expanded at its present location (1956)
Sadly , at the age of 95, Max passed away in early Feb 2016. The Australian & International philatelic community has now lost one of the most significant contributors in the world of philately. Max's dynamic energy into propagating the hobby throughout the challenging times from the middle to late 20th Century has been acknowledged and respected by most of his peers , friends , collectors and theindustry.
Moving into the present Max Stern & Co. has undergone changes due to the proposed redevelopment of Melbourne Flinders Street train station. Since September 2017 we have established our "pop up shop" at 244 Flinders St. just a few steps down from Port Phillip Arcade towards Elizabeth St. It is endeavoured that a permanent relocation to 271 Collins St will gradually occur from January 2018.